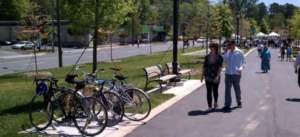 BY STEVE HARRISON
sharrison@charlotteobserver.com
February 14, 2018 10:39 AM
Updated February 18, 2018 05:20 PM
SouthPark was built for cars, but the city wants to remake it for pedestrians and bicyclists.
Charlotte has unveiled 45 new projects to transform the businesses and neighborhoods surrounding SouthPark mall, including a new trail along Fairview Road and a "Backlot Trail" that would link Park Road Park and McMullen Creek Greenway.
The list of projects is ambitious, and the city doesn't have enough money to build everything. The city is floating the idea of partnering with deep-pocketed companies in the area to help fund them.