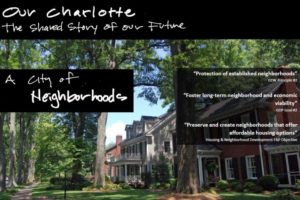 By: Mary Newsom | Dec 06, 2017
What kind of city is Charlotte? If we had a shared story, what would it be?
As the City of Charlotte explores how to reorganize and update its various overlapping development ordinances into one Unified Development Ordinance, the question arises whether Charlotte also needs a comprehensive plan – or at least a refreshed vision of its future.
In a Nov. 20 letter to Charlotte City Council, the Charlotte-Mecklenburg Planning Commission urged that "an aspirational vision" be created as part of the city's process to create a Unified Development Ordinance (UDO). Read more…